Pittsburgh Pirates vs Minnesota Twins Predictions, Picks & Odds 8/4/2020
The Pittsburgh Pirates vs Minnesota Twins matchup will be the second game of the series this afternoon. If you want to catch the game it will be broadcast on ESPN.
The Pirates will be looking to bounce back from the 2-1 loss suffered against the Chicago Cubs in their previous game. Pittsburgh had one RBI from their first inning home run with Kevin Newman going 2 for 4. Jacob Stallings, Phillip Evans, Adam Frazier and Josh Bell each had a base hit.
The entire Pirates team had six hits in the game. So, we are certain that Derek Holland will start the Pittsburgh Pirates vs Minnesota Twins on 0-0 with a 3.18 ERA.
On the other hand, the Minnesota Twins will be eager to build on their winning streak after they thrashed Cleveland. Mitch Garver was the only player to hit a home run during that game. While Jorge Polanco went 2 for 4 on with an RBI and Nelson Cruz did the same.
So, if you want to know more about this upcoming matchup all you have to do is stick around.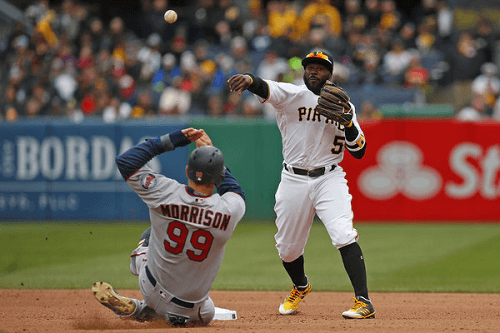 Preview of Pittsburgh Pirates vs Minnesota Twins Game
If you want to know more about these teams before you place a bet then all you need is read our expert analysis below.
Pittsburgh Pirates
Over the weekend the Pirate did not have a good time as they were thrashed by the Chicago Cubs even failing to score 3 runs in the games.
However, Pittsburgh did not do too badly when they were pitching during the game against the Cubs. However, they have not been doing too well on the road this season having won only 1 game out of five.
The poor record does not detract from the fact that the Pirates are 6-3 against the spread. That is because a lot of the games have been within one run. OddsShark has currently ranked Pittsburgh 26 in the MLB power rankings.
Minnesota Twins
The Twins have been performing impeccably well this season. They are currently sitting in the number one spot in the American league Central division. Minnesota has a record of 7-2 overall after winning 3 of 4 games against Cleveland.
So far, the Twins are 5-1 against the spread when it comes to home games this season. So, we are certain that they will be looking to widen the gap with a win this afternoon.
Rich Hill will be making his second start this season after he made his first on Wednesday last week
Our Prediction of the Pittsburgh Pirates vs Minnesota Twins Matchup
Pittsburgh seems to be an underdog going into this game after losing their previous games.
However, their solid pitching could put them at an advantage because Rich Hill is an aging player who may flounder against a young Pirates squad.
But that does not mean that the team will do well this afternoon. So, if you want a safe bet then you should definitely stick with the Twins as they have a better chance of winning this game.
Place Your Pirates vs Twins Bet Here
See Other Sports Betting News: